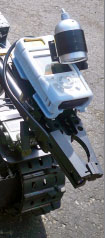 Rugged Handheld Identification and Verifications of Chemical agents, toxic chemicals, white powders, narcotics, contraband, & forensics.
First Defender RM/RMX
for used by first responders, military, police,
customs, security applications.
GEMINI
Raman and FTIR technology in on analyzer
TruDefender FT
Handheld FTIR instrument a
compliment to First Defender XL
TruScreen
Chemical Checkpoint Screening
TruScan
for pharmaceutical
and industrial operations.
TruNarc
Handheld Narcotics Identification System.