• Real time detection and
analysis of particles from a
live video image.
• Counts and measure size
and statistical distribution.
• Print report.
Particle Analyzer is the easy way to locate and measure separate objects in a live video image. Particle Analyzer runs as a plug-in to Video ToolBox™
Use the mouse to click on a particle. The software marks each particle based on color and displays the percent coverage. Print your report for permanent record.
Particle Analyzer integrates seamlessly with Video ToolBox™ so you can use all the capture and annotation features of Video ToolBox™.
Applications:
• Print Quality Inspection
• Inkjet Print analysis
• Cell Colony Counting
• Particle Suspensions
• Electronic Assembly
(ball-grid arrays)


Identify particles by color
with an adjustable
tolerance.
View in color or in
black and white.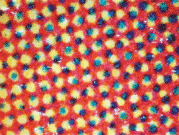 Live image of printed



Live image with yellow halftones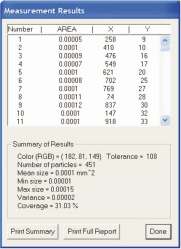 Calibrated measurement with